PAINT PROTECTION FILM NASHVILLE
CLEAR BRA NASHVILLE (PPF)
CLEAR BRA NEAR ME , PPF NEAR ME , PAINT PROTECTION FILM NEAR ME , PAINT PROTECTION FILM NASHVILLE - CLEAR BRA NASHVILLE - PPF NASHVILLE - KAVACA NASHVILLE
INSTANT HEALING PAINT PROTECTION FILM
WHAT IS PAINT PROTECTION FILM (PPF)?
Are you searching for " clear bra or paint protection film near me?" If, so  Ceramic Pro Nashville in Franklin, TN is here for you!
PPF is an acronym for Paint Protection Film aka Clear Bra. Essentially, it is a nearly invisible protective film that is made from ultra-rugged urethane. Clear bra looks like a thin layer of clear film that is basically bonded to your vehicle's paint. Its main function is to shield your vehicle's paint, providing the ultimate paint protection from road debris such as sand, gravel, abrasion and rock chips. It acts like a second skin, protecting your vehicle's paint from road debris and other elements in the form of a clear car wrap. 
WHAT MAKES KAVACA PPF BETTER?
If you have been searching for the best paint protection film in Nashville & Franklin,  Ceramic Pro Nashville is your destination! – KAVACA Paint Protection Film is the MOST INNOVATIVE PPF on the market today. KAVACA is the only instant self healing paint protection film in the world. What does this mean? It means, any scratches or light defects will instantly disappear from the clear bra, leaving your paint looking brand new, at all time!
It also utilizes Ceramic Pro nanoceramic technology during production, improving the overall visual appearance of any surface it is applied. It likewise helps to seal minor imperfections on the paint surface, without the orange peel effect common with many automotive protective films.
The combination of advanced nanotechnology, the use of superior materials, and stringent quality control standards produces the highest-quality, longest lasting, and strongest adhesion of any paint protection film made today.
WHY CHOOSE CERAMIC PRO NASVHILLE & FRANKLIN FOR YOUR PAINT PROTECTION FILM ( PPF / CLEAR BRA INSTALL?
Paint protection film install is an art in itself.  We pride ourselves in selecting the best paint protection film installers nationwide! Clear bra technicians at our Ceramic Pro Franklin Facility always strive for cleanest PPF ( paint protection film) instals with the best coverage. Ceramic Pro Franklin is specifically known for wrapping most edges where possible, on every Paint Protection Film installs, to insure a seamless look.
KAVACA INSTANT HEALING PAINT PROTECTION FILM FEATURES:
Extreme high gloss surface
Instant scratch healing without heating
Slick surface due to nanoceramic top coat
Advanced chemical and corrosion resistance
Helps to protect the vehicle's paint and other materials from road debris
Can be applied as a front bumper package, clear bra, full front, or entire vehicle.
LIFETIME WARRANTY ( VS 10 years competitors)
Documented on CarFax Vehicle History Report
Increase vehicle's resale value. Protects the factory finish.
PAINT PROTECTION FILM PACKAGES


NEW : ULTIMATE ARMOR PACKAGE - THE BEST ALL AROUND PROTECTION WITH LIFETIME WARRANTY
PROTECT YOUR ENTIRE VEHICLE FOREVER WITH THE ULTIMATE ARMOR PACKAGE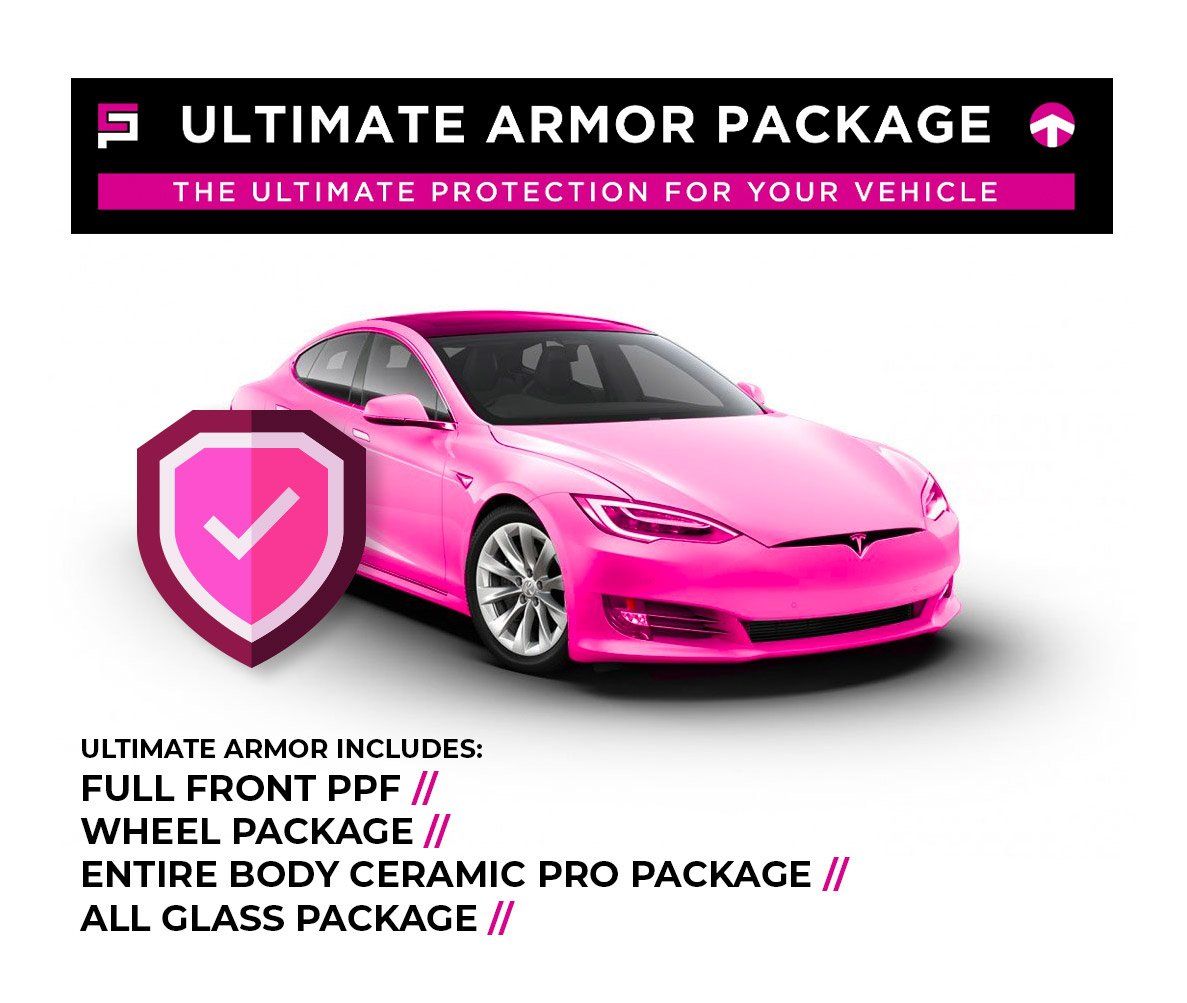 THE BEST IN CLASS WE OFFER
The Ultimate Protection for Your Vehicle
Available Only at Elite Dealer Locations
Full Front PPF & Full Vehicle 

Ceramic Pro Coating
Lifetime Warranty on All Exterior Surfaces: Paint, Wheels, & Glass
Protection Against: Rock Chips, Scratches, Road Debris, Oxidation, Staining, & Fading.
CARFAX Appearance Protection Service Reporting
The Ultimate Armor Package is the ONLY Full Vehicle Appearance Package with a LIFETIME WARRANTY. Get a Lifetime Warranty on every exterior surface of your vehicle: Paint, Wheels & Glass.
The Ultimate Armor Package is ONLY Available and Warrantied at Elite Dealers.
GET A QUOTE / BOOK APPOINTMENT
Ceramic Pro Nashville Elite Dealer. BESPOKE VEHCLE PROTECTION & RESTYLING – NATIONWIDE
Fill out the form below and we will get back to you as soon as possible. Due to high volume of customer requests, It is usually faster to get in touch with us via TEXT OR CALL (615-557-6785)
Address : 305 Seaboard Lane #322, Franklin, Tn 37067
Email : LuxAutoSpaTN@gmail.com
PAINT PROTECTION FILM NASHVILLE CLEAR BRA NASHVILLE , KAVACA NASHVILLE, PPF NASHVILLE,
305 Seaboard Lane #322, Franklin, Tn 37067